Main
 /  
Socially significant diseases
Socially significant diseases
1.
Prevention of Tuberculosis
2.
Addiction
3.
Cancer
4.
Information for young mothers
5.
HIV / AIDS
Around the world, according to WHO data, the first on the importance a cause of death of women at the age of 20–59 years is the breast cancer, 16% of all cases of cancer among women are the share of it, incidence increases in connection with the life expectancy growth, an urbanization and more and more broad acceptance of a modern conduct of life. In 2012 the breast cancer was diagnosed at 1,7 million women, and half a million women died of this illness (WHO).
In 2013 oncological diseases of women are included in the Global action plan of WHO for noninfectious diseases (NID) approved by all countries. The Sustainable Development Goal (SDG) accepted by the UN include the general task of reduction of number of cases of premature death from the NID including from such states as a breast cancer, on one third by 2030.
Global strategy for health of women, children and teenagers for 2016-2030, sets as the purpose creation of such world in which any woman, any child or the teenager don't die of the prevented or curable disease. The woman who has endured too often childbirth in 5 or 10 years can face the oncological disease having so destructive consequences.
Being guided by these strategy, society has to increase immediately scales of efforts on overcoming oncological diseases and to improvement of health of women throughout all life cycle, including change of behavior in favor of the healthy choice with an exception of negative impact of such risk factors, as unhealthy food, obesity, lack of physical activity, tobacco smoking and harmful alcohol intake.
The breast cancer takes a leading place in structure of an oncologic case rate and mortality among female population both in the world and in Kazakhstan. The mortality from this disease in 2015 made 7,9 on 100 000 thousand of the population, specific gravity of a breast cancer at I and II stages made 80,3%, in comparison with 80,6% in 2014. In 2015 within screening on early identification of good-quality and malignant new growths of a mammary gland 408824 women are examined that on 22,7 thousand exceeds coverage screening in 2014 (386112 – 100,1%). 96702 patients with various pathology of mammary glands – 23,65% of number surveyed are revealed that considerably exceeds an indicator of 2014 (11,7%), with good-quality new growths of mammary glands 96 043 women (23,49%) are revealed. According to EROP 765 cases of a breast cancer (0,19%) are taped, including I-II stage in 94,1% of cases (2014 – 91,3%), for the same period in 2014 – 700 cases of a breast cancer (0,18%) are taped.
It is necessary to notice that the most frequent diseases of a mammary gland are mastopathies, cysts, good-quality neoplasms which in turn can become the reason of development of a breast cancer at late identification and not high-quality diagnostics on which medical tactics and results of treatment depends.
Early diagnostics and access to the high-quality, available and well-timed help is a cornerstone in fighting against cancer of a mammary gland. The treatment percent at the 1st stage of the revealed disease makes 91-93%, the 2nd – 80%, the 3rd-50%.
Within implementation of the State program of development of health care of the Republic of Kazakhstan "Densaulik" for 2016-2019, active work on introduction of the integrated model of management of oncological diseases is begun.The purpose of introduction of the integrated model of management of oncological diseases is decline in mortality, increase in duration and improvement of quality of life of oncological patients.
Main objective of a ten-day campaign is: increase in scales of efforts of society on overcoming oncological diseases, on improvement of health of women throughout all life cycle; concentration of common efforts on strengthening of a health care system and on a general scope health care services that will allow to draw the attention of society to a problem and to find solutions for rendering measures on decline in mortality and disability of women as a result of oncological diseases; development of motivation at women and members of their families, for timely passing of screening survey (mammography); formation of joint liability for the health.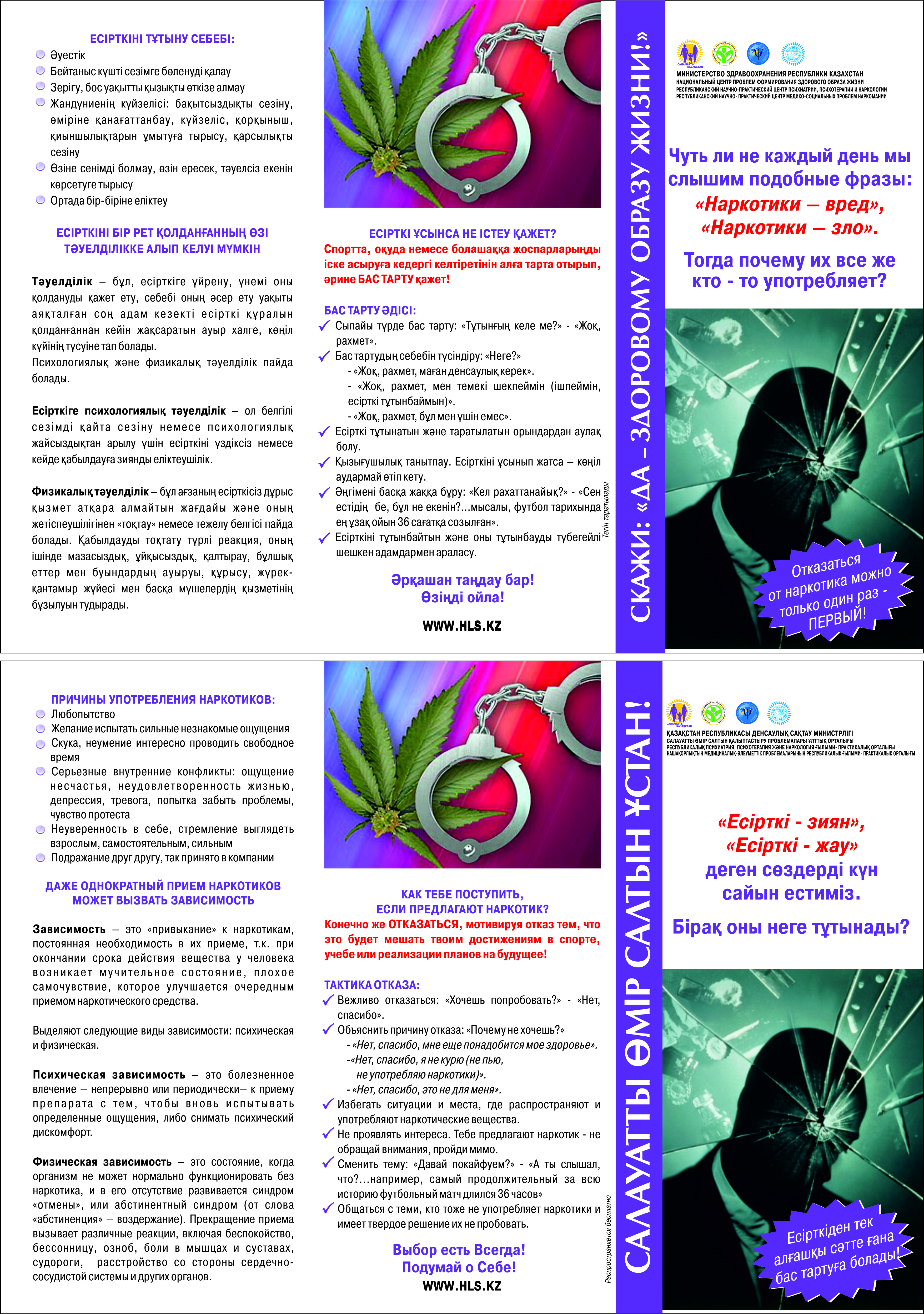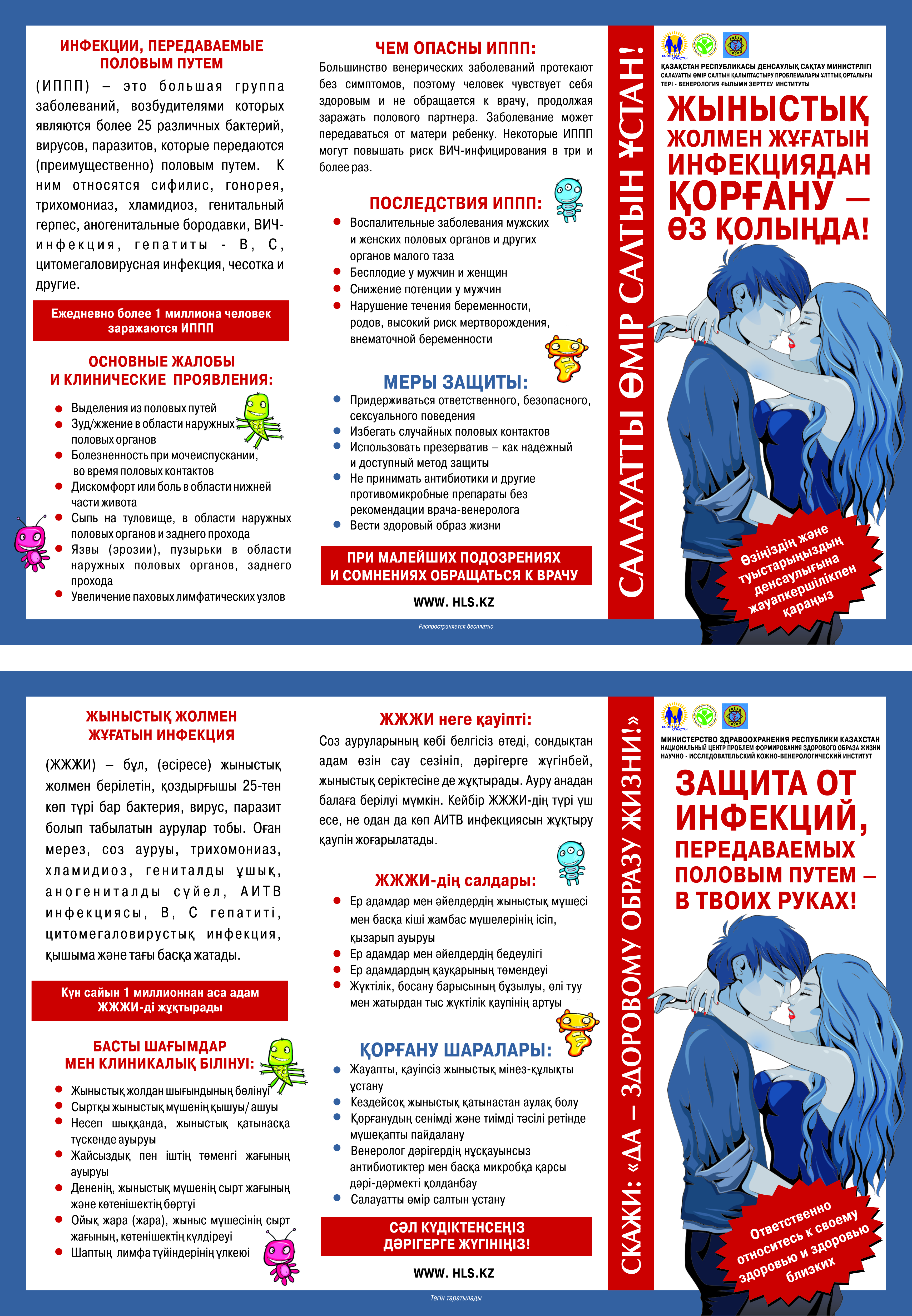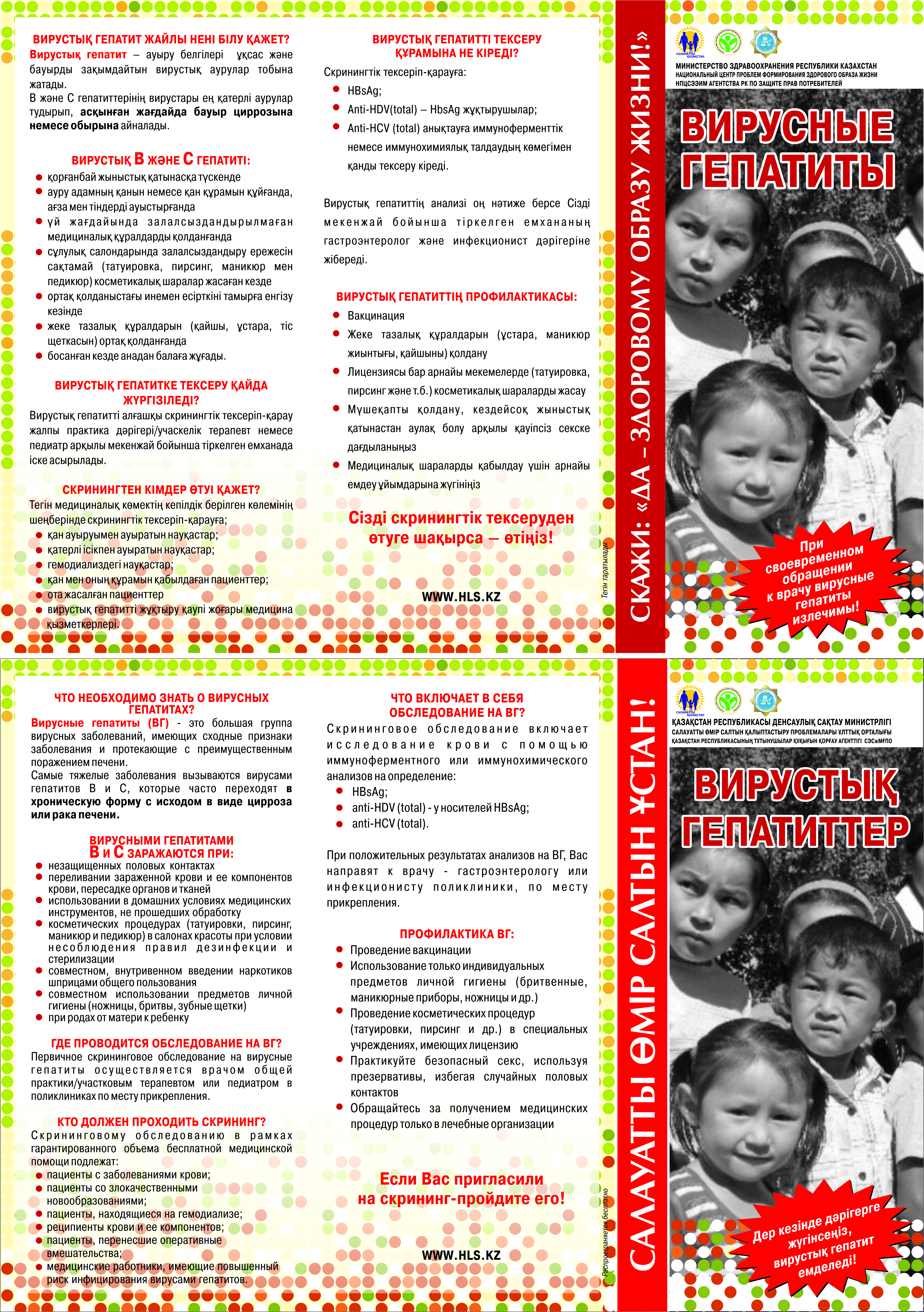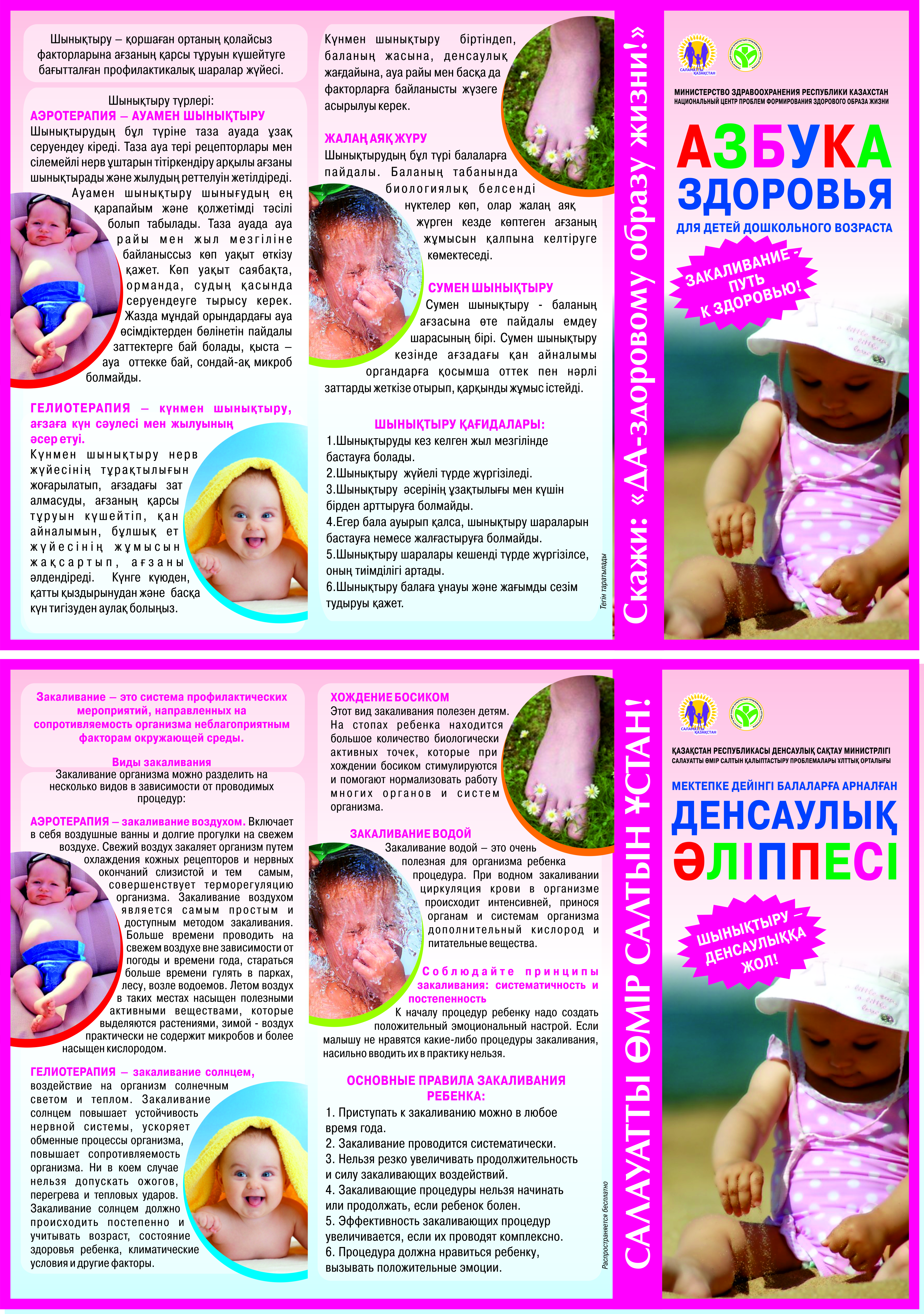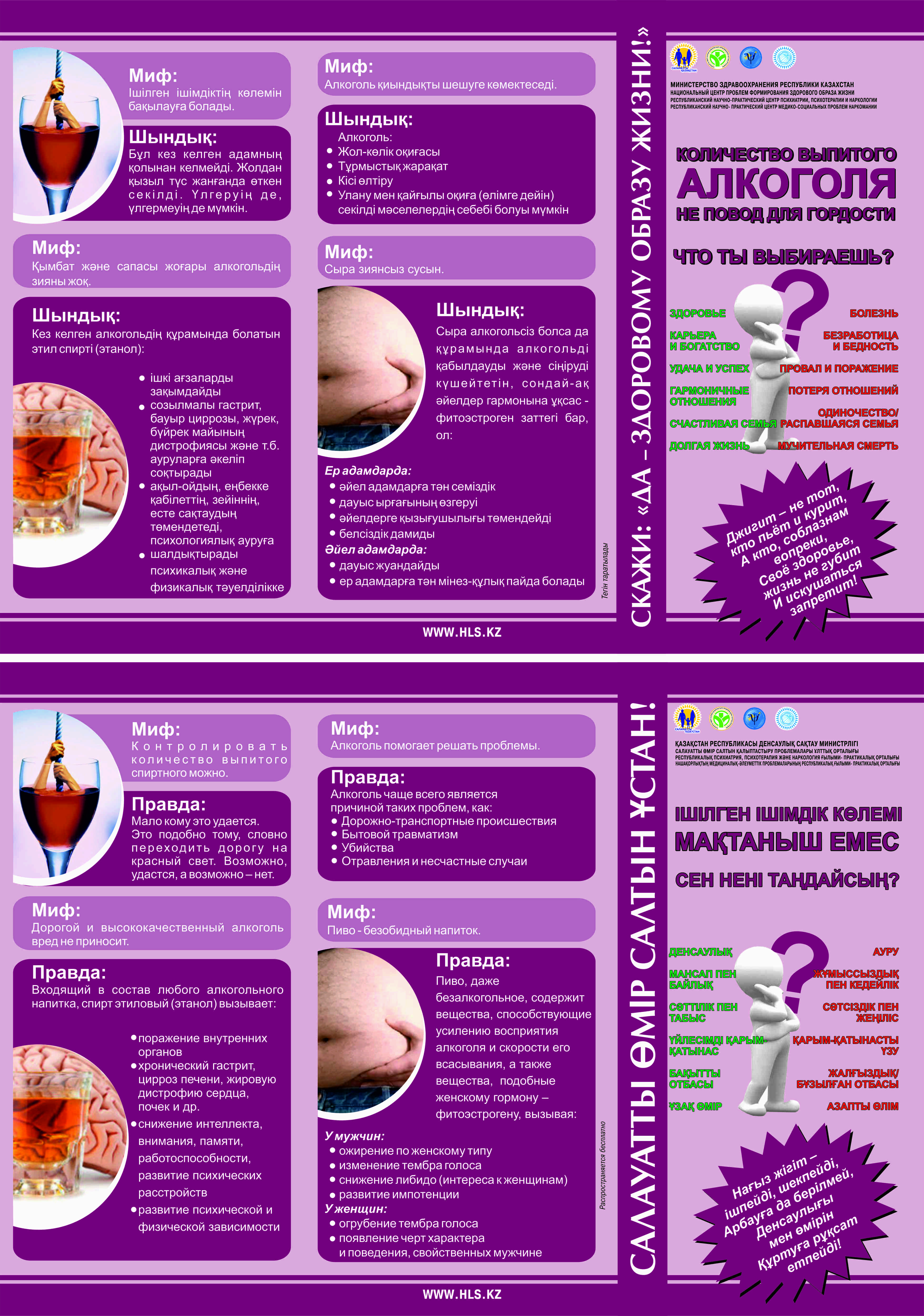 Additional immunization
against measles
Measles is an infectious disease caused by a virus. Symptoms of measles - a rash, cough, runny nose, irritable mucous membrane of the eyes and increased body temperature. The disease is dangerous by such complications as pneumonia, otitis media, convulsions, disorders of the central nervous system. Death is possible. The virus of measles is transmitted after contact with the sick person by airborne droplets.
VACCINATION is the only way to be protected against measles
WHO?
All persons aged 15-19 years, regardless of previously received vaccination against measles in the absence of contraindications to vaccination
When?
Beginning October 1, 2015
How?
A single subcutaneous injection of measles vaccine to the shoulder
The vaccine is safe and effective, certified by the World Health Organization
Where?
The vaccination stations of rural, regional, urban ambulant clinics, policlinics and schools, colleges, high schools, institutions of higher education. You can get additional information about the vaccination in your clinic or by the hotline of the Department of consumer protection of Astana city - 31-71-69 and
Public health department of Astana city - 55-69-85.
On the website:
www.azpprk.kz
Vaccination is free of charge!
Get vaccinated against measles,
it is your right to be protected!
"Healthy Life Center" LLC. The Republic of Kazakhstan, Astana city, Tauelsizdik Avenue House, 6/2.
Phone: 8/7172/ 36 50 80, 49 69 20/
www.zozh.kz
Measles
is a highly contagious infection caused by the measles virus. Initial signs and symptoms typically include fever, often greater than 40 °C (104.0 °F), cough, runny nose, and red eyes. Two or three days after the start of symptoms, small white spots may form inside the mouth, known as Koplik's spots. A red, flat rash which usually starts on the face and then spreads to the rest of the body typically begins three to five days after the start of symptoms. Symptoms usually develop 10–12 days after exposure to an infected person and last 7–10 days. Complications occur in about 30% and may include diarrhea, blindness, inflammation of the brain, and pneumonia among others. Rubella (German measles) and roseola are different diseases.
Measles is an airborne disease which spreads easily through the coughs and sneezes of those infected. It may also be spread through contact with saliva or nasal secretions. Nine out of ten people who are not immune who share living space with an infected person will catch it. People are infectious to others from four days before to four days after the start of the rash. People usually only get the disease at most once. Testing for the virus in suspected cases is important for public health efforts.
The measles vaccine is effective at preventing the disease. Vaccination has resulted in a 75% decrease in deaths from measles between 2000 and 2013 with about 85% of children globally being currently vaccinated. No specific treatment is available. Supportive care may improve outcomes. This may include giving oral rehydration solution (slightly sweet and salty fluids), healthy food, and medications to control the fever. Antibiotics may be used if a secondary bacterial infection such as pneumonia occurs. Vitamin A supplementation is also recommended in the developing world.
Measles affects about 20 million people a year, primarily in the developing areas of Africa and Asia. It causes the most vaccine-preventable deaths of any disease. It resulted in about 96,000 deaths in 2013, down from 545,000 deaths in 1990. In 1980, the disease is estimated to have caused 2.6 million deaths per year. Before immunization in the United States between three and four million cases occurred each year. Most of those who are infected and who die are less than five years old. The risk of death among those infected is usually 0.2%, but may be up to 10% in those who have malnutrition. It is not believed to affect other animals.
The classic signs and symptoms of measles include four-day fevers (the 4 D's) and the three C's—cough, coryza (head cold, fever, sneezing), and conjunctivitis (red eyes)—along with fever and rashes. Fever is common and typically lasts for about one week; the fever seen with measles is often as high as 40 °C (104 °F). Koplik's spots seen inside the mouth arepathognomonic (diagnostic) for measles, but are temporary and therefore rarely seen. Recognizing these spots before a person reaches their maximum infectiousness can help physicians reduce the spread of the disease.
The characteristic measles rash is classically described as a generalized red maculopapular rash that begins several days after the fever starts. It starts on the back of the ears and, after a few hours, spreads to the head and neck before spreading to cover most of the body, often causing itching. The measles rash appears two to four days after the initial symptoms and lasts for up to eight days. The rash is said to "stain", changing color from red to dark brown, before disappearing. Overall, the disease from infection with the measles virus usually resolves after about three weeks.
Complications
Complications with measles are relatively common, ranging from mild complications such as diarrhea to serious complications such as pneumonia (either direct viral pneumonia or secondary bacterial pneumonia), bronchitis (either direct viral bronchitis or secondary bacterial bronchitis), otitis media, acute brain inflammation (and very rarely SSPE—subacute sclerosing panencephalitis), and corneal ulceration (leading to corneal scarring). Complications are usually more severe in adults who catch the virus. The death rate in the 1920s was around 30% for measles pneumonia.
Between 1987 and 2000, the case fatality rate across the United States was three measles-attributable deaths per 1000 cases, or 0.3%. In underdeveloped nations with high rates of malnutrition and poor healthcare, fatality rates have been as high as 28%. In immunocompromised persons (e.g., people with AIDS) the fatality rate is approximately 30%. Risk factors for severe measles and its complications include malnutrition, underlying immunodeficiency, pregnancy, and vitamin A deficiency.
Treatment
There is no specific treatment for measles. Most people with uncomplicated measles will recover with rest and supportive treatment.
Patients who become sicker may be developing medical complications. Some people will develop pneumonia as a consequence of infection with the measles virus. Other complications include ear infections, bronchitis (either viral bronchitis or secondary bacterial bronchitis), and brain inflammation. Brain inflammation from measles has a mortality rate of 15%. While there is no specific treatment for brain inflammation from measles, antibiotics are required for bacterial pneumonia,sinusitis, and bronchitis that can follow measles.
All other treatment addresses symptoms, with ibuprofen or paracetamol to reduce fever and pain and, if required, a fast-acting medication to dilate the airways for cough. As for aspirin, some research has suggested a correlation between children who take aspirin and the development of Reye syndrome. Some research has shown aspirin may not be the only medication associated with Reye, and even antiemetics have been implicated. The link between aspirin use in children and Reye syndrome development is weak at best, if not actually nonexistent. Nevertheless, most health authorities still caution against the use of aspirin for any fevers in children under 16.
The use of vitamin A during treatment is recommended by the World Health Organization to decrease the risk of blindness. A systematic review of trials into its use found no significant reduction in overall mortality, but it did reduce mortality in children aged under two years.
The only reliable protection against the disease is vaccination against measles, which is included to the National immunization schedule
Protect yourself against measles!
Vaccinations against measles is an effective method to fight the disease.
Measles vaccination is free of charge, at the expense of the republican budget.
Revaccination
Free immunization in accordance with the Resolution of the Chief State Sanitary Doctor of the Republic of Kazakhstan dated January 15, 2015 №1 «About carrying out sanitary and anti-epidemic measures for the prevention of measles in the Republic of Kazakhstan." These activities are carried out among people from 15 to 19 years.
20-th of October - World Day of awareness about breast cancer
Breast cancer, according to statistics, ranks first among female cancer, and after 30 years, their number increases, and the maximum number of cases occur in premenopausal and postmenopausal periods. Each year more than 650,000 cases of breast cancer are registered in the world.
The mere presence of breast cancer should already raise concerns about cancer. And it says that the health of almost every woman is threatened. And frightening numbers of the statistics only grow because we know very little about the disease and very rarely go to the doctor for an examination.
What do we know about cancer? Breast cancer is cancer that develops from breast tissue. Signs of breast cancer may include a lump in the breast, a change in breast shape, dimpling of the skin, fluid coming from the nipple, or a red scaly patch of skin. In those with distant spread of the disease, there may be bone pain, swollen lymph nodes, shortness of breath, or yellow skin.
Risk factors for developing breast cancer include: female sex, obesity, lack of physical exercise, drinking alcohol, hormone replacement therapy during menopause, ionizing radiation, early age at first menstruation, having children late or not at all, and older age. Cancers developing from the ducts are known as ductal carcinomas, while those developing from lobules are known as lobular carcinomas. In addition, there are more than 18 other sub-types of breast cancer. Some cancers develop from pre-invasive lesions such as ductal carcinoma in situ. The diagnosis of breast cancer is confirmed by taking a biopsy of the concerning lump. Once the diagnosis is made, further tests are done to determine if the cancer has spread beyond the breast and which treatments it may respond to.
The first noticeable symptom of breast cancer is typically a lump that feels different from the rest of the breast tissue. More than 80% of breast cancer cases are discovered when the woman feels a lump. The earliest breast cancers are detected by a mammogram. Lumps found in lymph nodes located in the armpits can also indicate breast cancer.
Indications of breast cancer other than a lump may include thickening different from the other breast tissue, one breast becoming larger or lower, a nipple changing position or shape or becoming inverted, skin puckering or dimpling, a rash on or around a nipple, discharge from nipple/s, constant pain in part of the breast or armpit, and swelling beneath the armpit or around the collarbone. Pain ("mastodynia") is an unreliable tool in determining the presence or absence of breast cancer, but may be indicative of other breast health issues.
Women may reduce their risk of breast cancer by maintaining a healthy weight, drinking less alcohol, being physically active and breastfeeding their children. The benefits with moderate exercise such as brisk walking are seen at all age groups including postmenopausal women. Marine omega-3 polyunsaturated fatty acids appear to reduce the risk. Strategies that encourage regular physical activity and reduce obesity could also have other benefits, such as reduced risks of cardiovascular disease and diabetes.
Prevention
The selective estrogen receptor modulators (such as tamoxifen) reduce the risk of breast cancer but increase the risk of thromboembolism and endometrial cancer. There is no overall change in the risk of death. They are thus not recommended for the prevention of breast cancer in women at average risk but may be offered for those at high risk. The benefit of breast cancer reduction continues for at least five years after stopping a course of treatment with these medications.
High consumption of soy-based foods may reduce risk.
For preventing the development of cancer, every woman should have the skills of
self-exam
.
It must be carried out on a monthly basis.
Here aer some tips
:
Step 1:
Begin by looking at your breasts in the mirror with your shoulders straight and your arms on your hips.
Here's what you should look for:
Breasts that are their usual size, shape, and color
Breasts that are evenly shaped without visible distortion or swelling
If you see any of the following changes, bring them to your doctor's attention:
Dimpling, puckering, or bulging of the skin
A nipple that has changed position or an inverted nipple (pushed inward instead of sticking out)
Redness, soreness, rash, or swelling.
Step 2:
Now, raise your arms and look for the same changes.
Step 3:
While you're at the mirror, look for any signs of fluid coming out of one or both nipples (this could be a watery, milky, or yellow fluid or blood).
Step 4:
Next, feel your breasts while lying down, using your right hand to feel your left breast and then your left hand to feel your right breast. Use a firm, smooth touch with the first few finger pads of your hand, keeping the fingers flat and together. Use a circular motion, about the size of a quarter.
Cover the entire breast from top to bottom, side to side — from your collarbone to the top of your abdomen, and from your armpit to your cleavage.
Follow a pattern to be sure that you cover the whole breast. You can begin at the nipple, moving in larger and larger circles until you reach the outer edge of the breast. You can also move your fingers up and down vertically, in rows, as if you were mowing a lawn. This up-and-down approach seems to work best for most women. Be sure to feel all the tissue from the front to the back of your breasts: for the skin and tissue just beneath, use light pressure; use medium pressure for tissue in the middle of your breasts; use firm pressure for the deep tissue in the back. When you've reached the deep tissue, you should be able to feel down to your ribcage.
If you feel something unusual (perhaps grope node), keep in mind that according to statistics revealed 4 out of 5 tumors in the breast are benign. Examine immediately other breast. If feeling like this is a good sign that you are dealing with normal breast tissue. But in any case, consult an oncologist.
At the slightest suspicion of the disease you need to go to the mammologist. If the exam of breast turns out that your suspicions are not groundless, you'll appoint an additional examination: X-ray - mammography and breast ultrasound. If necessary, take a biopsy of the breast. If the diagnosis will confirmed, further oncologist will work with patient health. For the prevention of breast cancer women over age 40 must be examined by mammalogist and do a mammogram.
Breast cancer is treated comprehensively. Primarily, it is a surgery, the use of chemotherapy, hormonal therapy and radiotherapy. In the early stages of cancer only one operation might be done. For large tumors and metastases in the lymph nodes is necessary to conduct radiation and chemotherapy.
Modern medicine has a large arsenal of treatments for breast cancer. But success is possible only with the early detection of disease. Moreover, early treatment of breast cancer requires lower cost than the later one.
Middle East respiratory syndrome coronavirus (MERS-CoV)
The
Middle East respiratory syndrome coronavirus
(
MERS-CoV
) is a novel positive-sense, single-stranded RNA virus of the genus Betacoronavirus.
Initially called novel coronavirus 2012 or simply novel coronavirus, it was first reported in 2012 after genome sequencing of a virus isolated from sputum samples from person who fell ill in a 2012 outbreak of a new flu.
As of July 2015, MERS-CoV cases have been reported in over 21 countries, including Saudi Arabia, Jordan, Qatar, Egypt, the United Arab Emirates, Kuwait, Turkey, Oman, Algeria, Bangladesh, Indonesia (none were confirmed), Austria, the United Kingdom, South Korea, the United States, Mainland China, Thailand, and the Philippines.
Symptoms
The clinical spectrum of MERS-CoV infection ranges from no symptoms (asymptomatic) or mild respiratory symptoms to severe acute respiratory disease and death. A typical presentation of MERS-CoV disease is fever, cough and shortness of breath. Pneumonia is a common finding, but not always present. Gastrointestinal symptoms, including diarrhoea, have also been reported. Severe illness can cause respiratory failure that requires mechanical ventilation and support in an intensive care unit. Approximately 36% of reported patients with MERS-CoV have died. The virus appears to cause more severe disease in older people, people with weakened immune systems, and those with chronic diseases such as cancer, chronic lung disease and diabetes.
Prevention and treatment
No vaccine or specific treatment is currently available. Treatment is supportive and based on the patient's clinical condition.
As a general precaution, anyone visiting farms, markets, barns, or other places where camels and other animals are present should practice general hygiene measures, including regular hand washing before and after touching animals, and should avoid contact with sick animals.
The consumption of raw or undercooked animal products, including milk and meat, carries a high risk of infection from a variety of organisms that might cause disease in humans. Animal products that are processed appropriately through cooking or pasteurization are safe for consumption, but should also be handled with care to avoid cross contamination with uncooked foods. Camel meat and camel milk are nutritious products that can continue to be consumed after pasteurization, cooking, or other heat treatments.
Until more is understood about MERS-CoV, people with diabetes, renal failure, chronic lung disease, and immunocompromised persons are considered to be at high risk of severe disease from MERS-CoV infection. These people should avoid contact with camels, drinking raw camel milk or camel urine, or eating meat that has not been properly cooked.
WHO is working with clinicians and scientists in affected countries and internationally to gather and share scientific evidence to better understand the virus and the disease it causes, and to determine outbreak response priorities, treatment strategies, and clinical management approaches. The Organization is also working with countries to develop public health prevention strategies to combat the virus.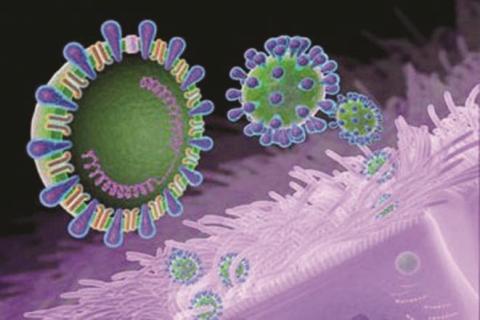 Ministry of Health recommends:
Take care of your health – pass screening!

Address invitation to screening

Dear _____________

SCREENING is preventive medical examination of healthy individuals of a certain age to identify risk factors and diseases in the early stages, in order to increase the effectiveness of the treatment and prevention of complications.

SCREENING includes:
- Anthropometric measurements (height, weight, waist circumference)
- Measurement of blood pressure
- Carrying out of laboratory and instrumental surveys, depending on the target group

The following age groups should subject to SCREENING:
Men and women aged 25, 30, 35, 40, 42, 44, 46, 48, 50, 52, 54, 56, 58, 60, 62, 64
- determining the level of cholesterol and blood glucose; Electrocardiography according to indications
- examination of cardiologist, endocrinologist according to indications
Men and women aged 40, 42, 44, 46, 48, 50, 52, 54, 56, 58, 60, 62, 64, 66, 68, 70
- intraocular pressure measurement
Men and women aged 30, 35, 40, 45, 50, 55, 60
- cytological examination of smear from the neck of uterus
- colposcopy according to indications
Men and women aged 50, 52, 54, 56, 58 and 60
- X-rays of the breast (mammography)
- Examination of mammologist, oncologist according to indications
Men and women aged 50, 52, 54, 56, 58, 60, 62, 64, 66, 68 and 70
- testing of fecal for occult blood for the early detection of diseases of the colon
- endoscopic examination of the colon (colonoscopy) according to indications
Men and women aged 50, 54, 58, 62 and 66
- a blood test for prostate specific antigen and its variants
- survey of urologist, ultrasound investigation and biopsy according to indications
Men and women aged 50, 52, 54, 56, 58 and 60
- endoscopic examination of the esophagus and stomach (esophagogastroscopy)
- examination of a gastroenterologist, oncologist - according to indications
Men and women with viral cirrhosis and non-viral etiology
- blood test for AFP
- liver ultrasound investigation

Screening is provided free of charge
in the medical organization to which you attached.
Be responsible for your health!
Sincerely, your family doctor _______________
Work phone: ______________________
Mobile phone:__________________________
"Healthy Life Center" LLC. The Republic of Kazakhstan, Astana city, Tauelsizdik Avenue House, 6/2.
Phone: 8/7172/ 36 50 80, 49 69 20/
www.zozh.kz
Назад